1993 1994 and 1995 Colac 6 Day Event


Athlete's Legs Maintenance using Wholistic Light Manual Muscle Relaxation


The Colac 6 Day event was the place I cut my teeth as an Ultra Marathon Recovery Specialist


Wholistic Light Manual Muscle Relaxation the environmentally friendly legs maintenance system of choice for world runners


What is Wholistic Light Manual Muscle Relaxation?

The aim of Light Manual Muscle Relaxation is to clear the legs of micro-cellular debris as quickly as possible without breaking into the body's own recovery processes so that a healthy circulation can be resumed as quickly as possible which will result in a better performance for the athlete!


Light Manual Muscle Relaxation is a simple oil free physiology based legs maintenance systemsystem developed for extreme athletes and tested at events all over the world and is in fact the only system that has been used on 2 runs around the world!

Arguably it can be said to be the most tested maintenance system in the world!


The advantages of using Light Manual Muscle Relaxation


It only needs a few minutes and can be done as often as possible because it does not use a rubbing motion does not initiate or further irritate sore muscles


There are flow on benefits to all athletes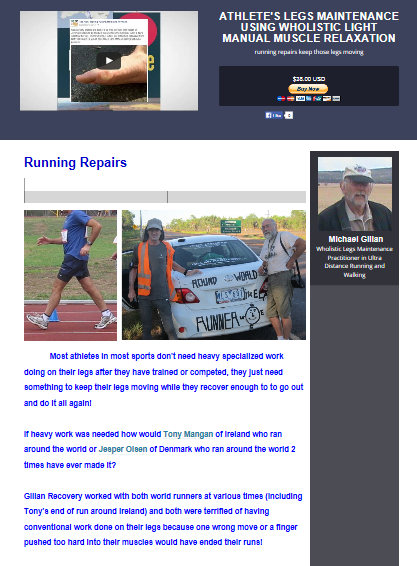 A workshop on Environmentally Friendly Light Manual Muscle Relaxation is available US$38 including manual