http://bit.ly/acrossamericaaudio
Across America July 2011 to November 2011 for
Natural Medicine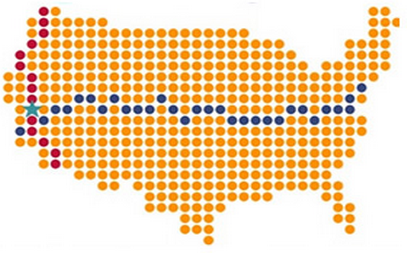 The Run: Moving Natural Medicine Forward, was founded in 2009, to dramatize and publicize the urgent need for all Americans, including busy health professionals, to take massive action and transform our nation's health and spark a movement on Main Street America.

In 2011, Dr. Dennis Godby, nephew Jonas Ely, and two sons, Isaiah and Jeremiah, took the drastic steps, of running, as a team, close to 11,000 miles, averaging 30 miles per day- - to bring attention to, and raise awareness how lifestyle choices and natural medicine is "the cure" to optimizing health for which we have been waiting!


Members of the group were Kristin Odegaard driver/cook
Dr. Dennis Godby run organizer and run boss
Jeremiah Godby runner
Isaiah Godby runner
and Jonas Ely runner
Michael Gillan of Gillan Recovery (Australia) legs recovery


http://www.therun.org/

Bridgeport University-end of the run



Light Manual Muscle Relaxation the recovery system of choice for across America runners!

Light Manual Muscle Relaxation is a simple physiology based recovery system developed for extreme athletes and tested at events all over the world and is in fact the only system that has been used on 2 runs around the world!

Arguably it can be said to be the most tested recovery system in the world!


Athlete's Legs Maintenance using Wholistic Light Manual Muscle Relaxation

Light Manual Muscle Relaxation has also been used at events in these countries



The advantages of using Light Manual Muscle Relaxation



It only needs a few minutes and can be done as often as possible because it does not use a rubbing motion does not initiate or further irritate sore muscles

and is environmentally friendly!

There are flow on benefits to all athletes


A tested Trusted Alternative





PDF US$19.95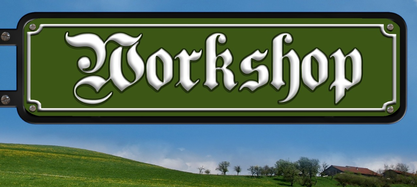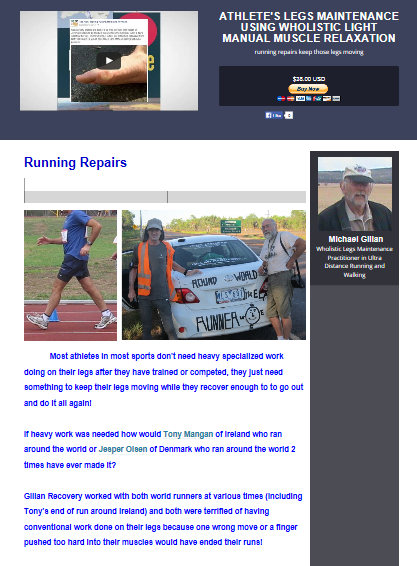 A workshop on Wholistic Light Manual Muscle Relaxation the choice of around the world runners is available now! US38 including manual